The world is undoubtedly digital first these days, but there's still a place for print, particularly with the pages of brochures. Why? Well it's the most trusted media out there, ahead of TV with statistics suggesting 82% of readers trust print over online.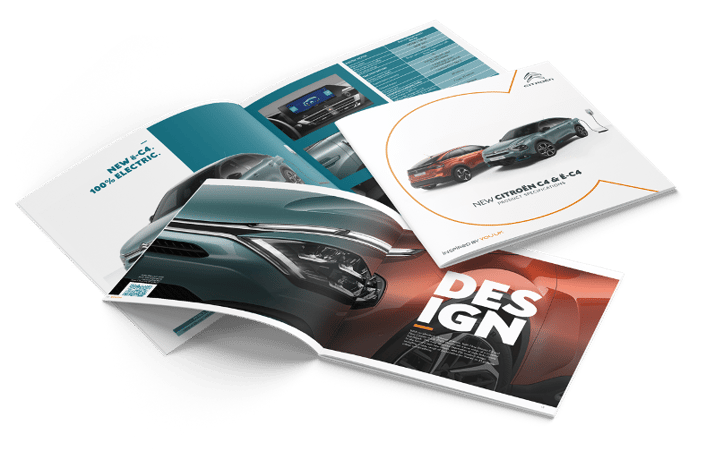 Brochures have been a key part of the sales journey for our clients for many years. For example the automotive sector has seen us work with a number of brands both in the UK & Ireland.

We've created brochures for the likes of Fiat, Alfa Romeo and Jeep as well as Stellantis' brochures for Citroën UK and DS Automobiles for over 15 years. Refining our processes with each iteration we create meaningful, tactile, touch points with the brand.

So why after all these years are we still such big fans of the brochure format?
It's an amazing brand communication.
It tells a story unlike many websites.
Has pace with beginning, middle and end.
An emotional touchpoint with the customer.
Used during active evaluation.
As well as for post-purchase reassurance.
They can be localised and personalised to suit the audience.
We can see there's an appetite through orders and downloads.
As a species we have a long history of storytelling. It's as universal and ancient as humankind. It exists to entertain, to inform and above all to create an emotional connection with people. And creating emotional connections is what brand building is all about.


We are specialists…

Over the last 15 years many of our UK brochure innovations have been adopted by clients, including structure, content, retouching strategy and format. These innovations often went on to appear in our clients' global brochures.

Our ability to be at the forefront of innovation enables us to suggest initiatives that can improve effectiveness, reduce time to market and lower costs. Early advocates of digital, we suggested digital brochures as long ago as 2008 and delivered a full range with the ability to reduce the burden of print and fulfilment costs.

With the advent of our digital brochures came the opportunity for every retailer see the role brochures played in the long sales journey, whilst data collection helped build knowledge of the customer base and how best to engage with it.

It's this ability to look outside of the traditional role of a supplier of literature that adds enormous value to We Are Acuity's proposition. At every stage we act as a partner, from design, copywriting and imagery to production, print and fulfilment we are always looking a little further down the road, for innovation, for efficiency and for more pragmatic ways of working together.

Everything is included.
Key parts of any brochure are the words and pictures. We have the ability to handle everything from writing copy to commissioning photography, illustration, CGI imagery or sourcing stock library images. We can also retouch either existing or new imagery to create new colour ways or new features.
If you'd like to see how we drove customer engagement and insight across the whole customer journey with brochures for Citroën , see our case study. If you'd like to discuss how we can help you with your brands brochures just get in touch. We'd love a conversation.