Where better to engage with fundraisers than in their local communities amongst the people and things that matter most to them? It's a place full of passion, enthusiasm, and absolute bundles of energy.

So how, as a national charity do you harness that and engage with local communities? Why, with local marketing of course! There's been many great examples of charities utilising local marketing over the years, whether that's to increase the relevancy of their campaigns (such as work we did with St John Ambulance) or to engage local audiences, such as local fundraisers or even local brand teams. Recently an amazing example caught our eye from Cancer Research UK (CRUK) Race for Life. We wanted to share:

Their nationwide 2022 events are in full swing right now! Runners can choose from 3k, 5k and 10k events at locations across the UK. There is also a chance to take part in Pretty Muddy - a mud-splattered obstacle course - along with a Pretty Muddy Kids option.

Since its inception, nearly 30 years ago, pink-clad female participants have raised nearly £900 million for the charity! In 2019 they even took the bold step of making entry available to male participants, boosting this year's expected fundraising to record numbers.

The money raised funds world-class research to help beat 200 types of cancer, including: bowel cancer, breast cancer, prostate cancer, lung cancer, testicular cancer, brain cancer, children's cancers and leukaemia.

Runners, joggers, walkers, push-chair pushers, and wheel-chair rollers will attempt to achieve personal milestones at venues up-and-down the country. The events are supported by national brands such as Tesco & Heart (Global) radio, but the marketing is very, very local.

On a Watford bus shelter, outside a very busy commuter mainline station, and by chance a tourist hot spot, stands a bold poster. The message is clearly local. The town is the first word. It's not just local, but personal. The use of a male runner highlights the more inclusive entry policy, and the venue and date will resonate with local people.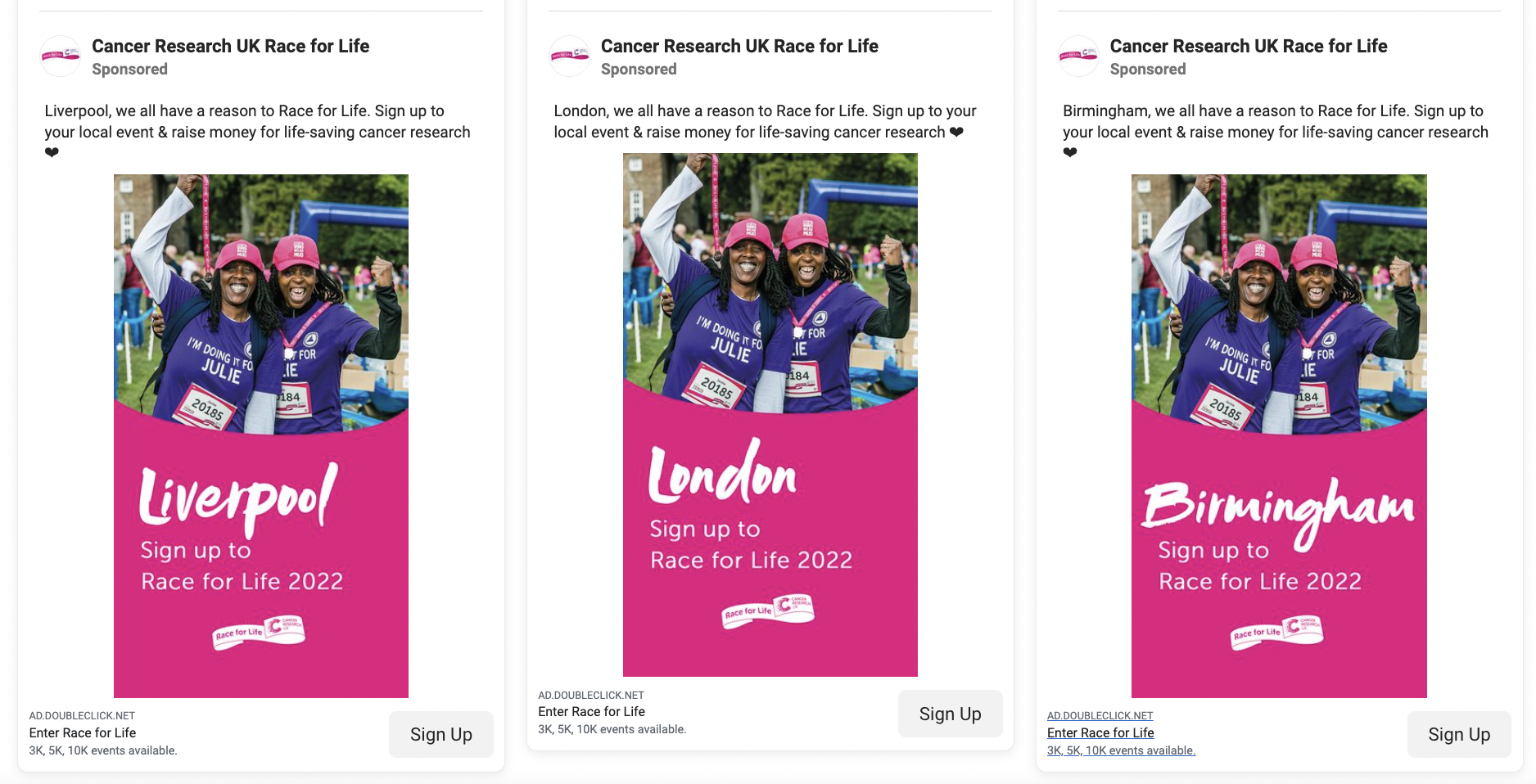 And there's more localised ads on Facebook and beyond… as well as huge amounts of very localised PR in all the local and regional media channels. What a great way to engage a local community. Watford's Race for Life is in Cassiobury Park on the 21st May. It's got us looking for our running shoes already! You can find your local event here. Well done Cancer Research. And well-done local fundraisers!

If you'd like to talk to us about how you could improve the relevancy of your local marketing, or how you could engage your local communities, get in touch with We Are Acuity today for a FREE marketing audit by clicking HERE.

Or if you'd like to read more about Local Marketing have a look at our blog page "Local Thinking': https://www.weareacuity.com/local-thinking-our-blog